Snacks & Indulgences
Innovation in the snack and indulgence category can come from new product forms, usage occasions or even from break-through branding and Shelf Kicking™ packaging. It always starts by understanding the insight behind why the snacker is snacking, or the indulger is indulging. We've taken those insights and pushed the envelope with new concepts and executions for everything from start-ups to shelves at mass and seasonal in-and-outs to local chocolatiers.

Serenity Now
With the insight that moms prefer to enjoy their breakfast in glorious solitude, Kick's branding and packaging refresh connects MOM's Best® Cereals and Granolas in novel ways. From life hacks to mom-focused storytelling, we created engagement all the way around the box, bag and pouches that lifted this one-time niche Post® Consumer Brand into co-ops, grocery store chains and mass retailers alike. Oh, and the kids got their own boxes too.
NATURALLY DELIGHTFUL
This "almost homemade" line of baking mixes and frostings required a playful, handmade visual rebrand highlighting the all-natural deliciousness — and the chance to bake up some sweet family memories — just inside the box.
*Cake and cupcakes on a yellow background with a pink napkin
*Five food packaging designs for Naturally Nora® brand cake mixes
*Brand identity elements for Naturally Nora® brand cake mixes
CHOCOLATE-COVERED INNOVATION
How to transform simple caramels into a memorable gift? Just take some innovative packaging structures, add a dash of sweet illustration and top with an unforgettable design. We may have even invented "self-gifting" with this one.
*Red and white logo for Yum Dilly brand
*Two food packaging designs for Yum Dilly brand
Get Fresh!
3,000 year old recipes brought to life in an urban location with fresh ingredients and an even fresher attitude? Done. We built The Naughty Greek™ hospitality experience with the intention of throwing every Greek tradition — except the heavenly pork gyro — out the window.
*Owner of The Naughty Greek standing in front of his restaurant
*A menu design for The Naughty Greek and a dish of food
*Interior wall design in The Naughty Greek
LESS IS MORE
Talk about taking transparency in food manufacturing literally. When building the Whole Foods®-exclusive line of cereals for Post® Consumer Brands, our first step was to ditch the box and print directly on the bag inside. Trees were saved. Customers were lured. And the competition, well, they liked it so much they copied us.
*Three food packaging designs for Three Sisters™ hot cereal varieties
All natural and all delicious. After exceeding sales expectations in the first year by over 200%, a line extension to hot cereal was only natural.
SOUP ON-THE-GO
We rebranded Spoon Optional, a line of sippable soups for the millennial mom audience who has healthy and convenient nutrition on her mind. Utilizing clear shrink labels, the colorful, organic soups have an appetizing shelf appeal. Enjoy cold or warm!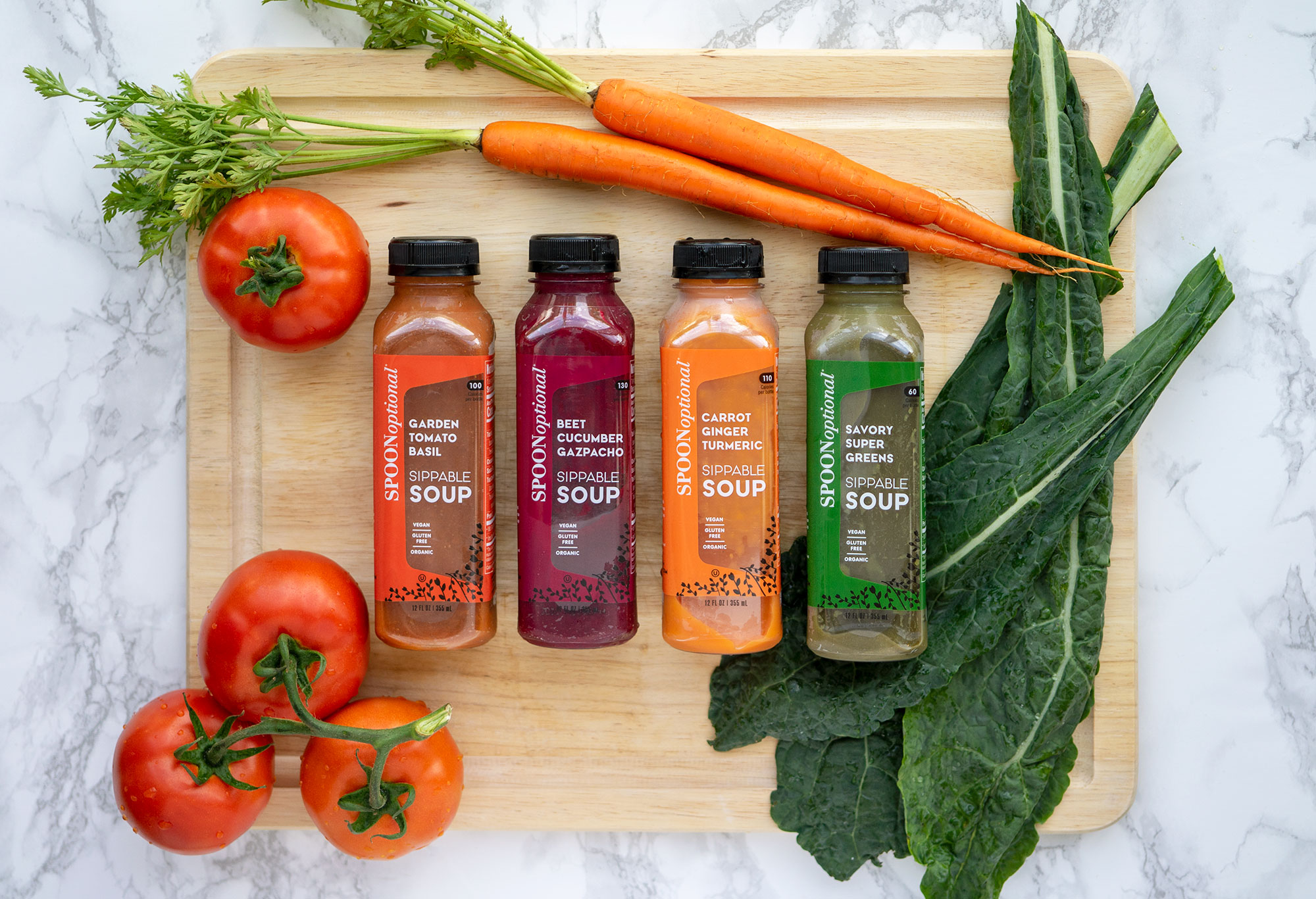 SHELF PRESENCE INFUSED WITH PANACHE
Squished locally from sustainably sourced Minnesota-grown heirloom apples, Panache® juices are enhanced through ayurvedic infusions with healthful and trendy ingredients. Utilizing the bottle's shrink-wrap label to the fullest, a powerful mix of color and windows creates a vibrant, unique and hard-working package bursting with flavor.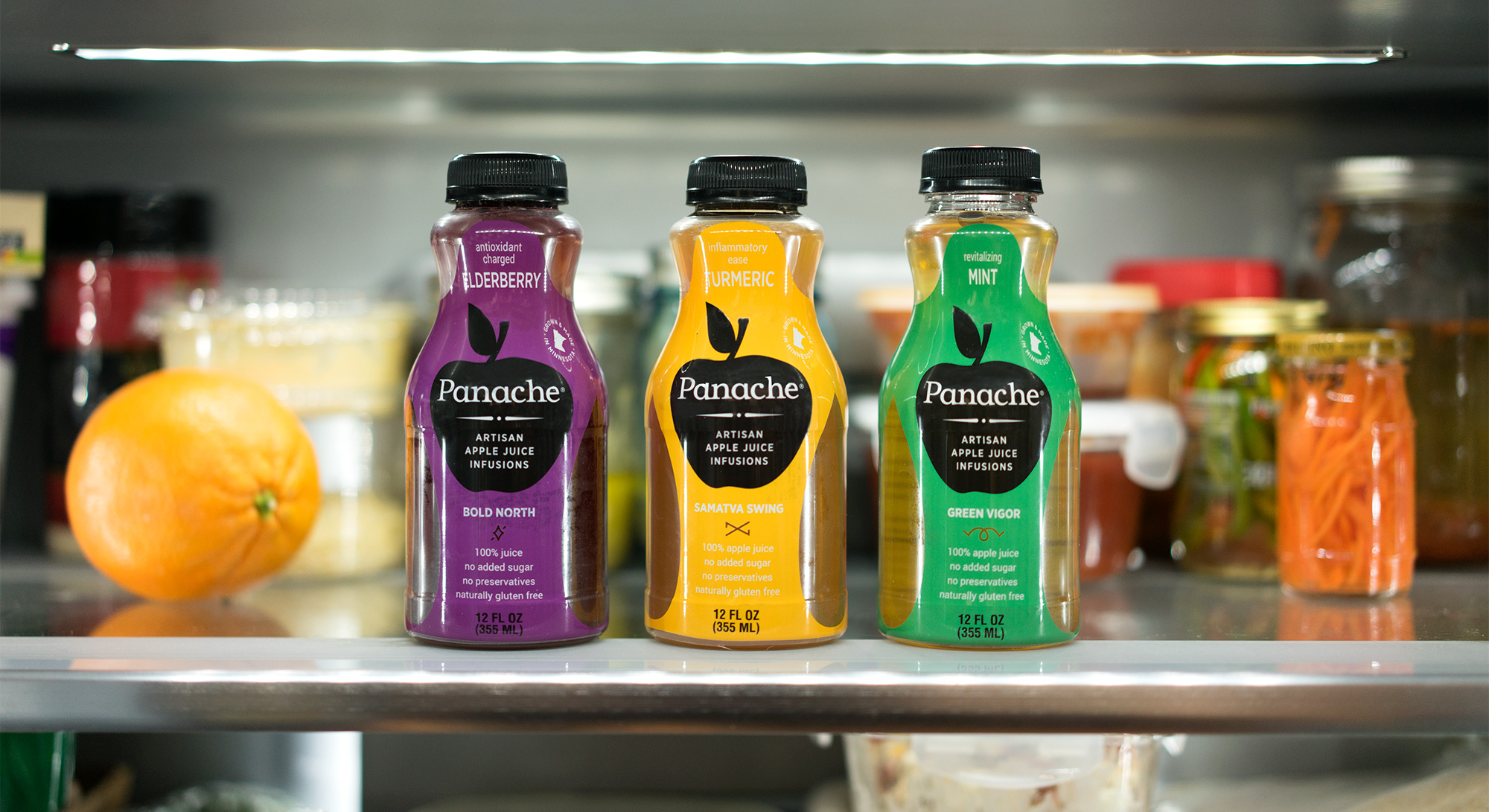 *Panache apple juice bottles in fridge
REPLENISH
Kick partnered with a talented team of professionals to create a brand identity system for a new protein water propelled by purpose for PepsiCo® Nutrition Ventures. The next step? A line extension into protein snack sticks. Naturally.
*Orange and white Wello™ brand logo
HOW DO YOU BOU?
Kick translated Caribou Coffee® brand's attitude to new contexts, successfully repackaging their commercial and retail tea offerings. Our promotional email campaigns increased traffic. Design expansions aided new market openings. And various elements from signs to bike racks to cups helped brighten mornings everywhere.
*Two packages of Caribou brand tea
*Three packages of Caribou brand tea
*Three magazine ads for Caribou Coffee